Common DIY Kitchen Install Problems: Part 1–Faucets and Pipes
Written by Hanna Plumbing & Heating / August 29, 2019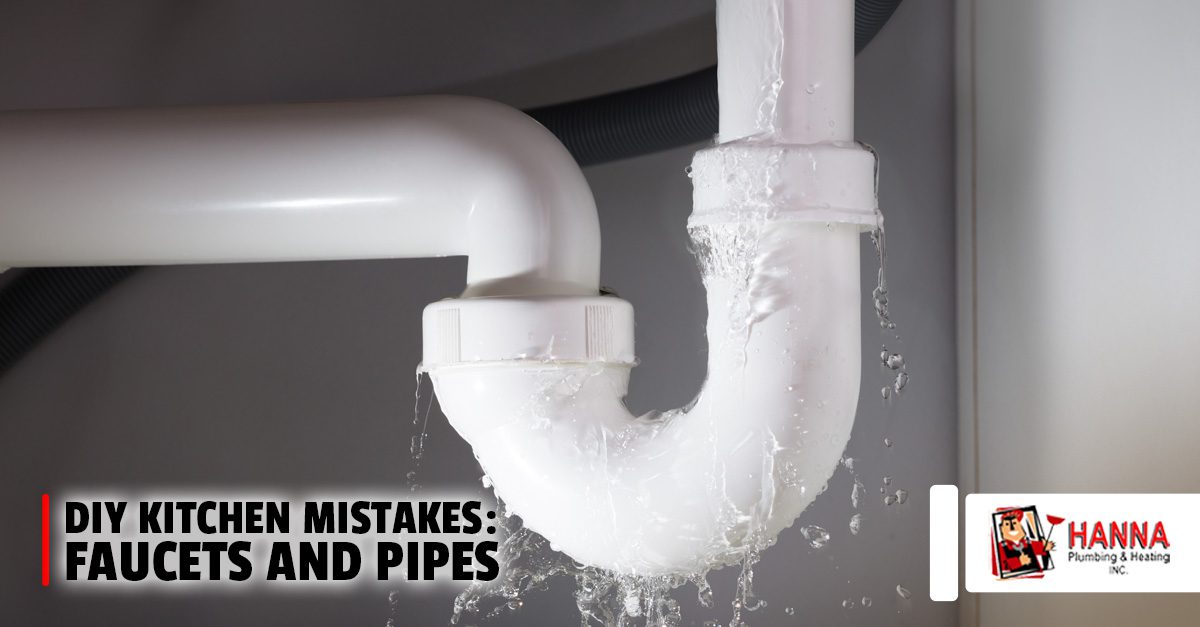 Is it time to update your kitchen?  You may be tempted to DIY but the installation of the faucet, garbage disposal, water and drain lines can involve extensive plumbing work.  Tackling them on your one, without the help of a professional, could result in injuries, additional expense and damage to your home.
If you plan to update, you'll want to keep a few things in mind before you start:
Avoid Leaks
A leak can happen at any time.  A large leak, especially one that goes unnoticed, can lead to flooding and damaged floors. Leaks you can't see are especially problematic—a leak behind a cabinet or drywall can cause thousands of dollars in damage before its detected.
Check Shut-Off Valves
Shut-off valves can become impossibly tight after sitting untouched.  They could break off when a well-intentioned homeowner attempts to twist, leading to a major leak or even flooding.
Small, Dark & Uncomfortable Work Areas
The area underneath the sink is usually a small and dark space. Maneuvering tools around such a small area can be tricky, and hard-to-reach appliances can be frustrating—especially if you're spending long periods of time wedged into a tiny, dark cabinet with your toolbox. If you plan a DIY faucet installation, use a strong work light and stop if you feel any neck or back strain.
Additional Expenses
DIYers often tackle projects on their own to avoid the extra expense of hiring a professional. But keep in mind that if anything goes wrong as you're working, you may have to replace the new fixtures and equipment you just bought—and these costs can add up quickly. Inexperienced DIYers often end up requiring the help of a professional to reverse plumbing mistakes, in addition to fixing any collateral damage. One small oversight can cost thousands of dollars in damage to your home, quickly defeating the purpose of DIYing in the first place.
Installing kitchen appliances is easier said than done. From leaks and injuries to extra expenses, there are countless risks involved in attempting to do these projects on your own. For added assurance and protection for yourself and your home, give us a call at (319) 377-2809 for all your plumbing needs!
Check back for Part II of our Common DIY Kitchen Install Problems series where we'll talk about garbage disposals.
Read More Helpful Blogs: