Which Air Conditioning System is Right for Your Home?
Written by Hanna Plumbing & Heating / June 10, 2019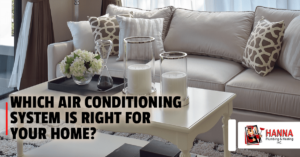 April showers bring May flowers—but what happens after? Here in Iowa, it's often unbearable heat and unpredictable weather throughout the summer months. And although we can't control the impending storm or the 95-degree heatwave, we can fix that air conditioning system that only cools the basement you never use, the system that only cranks out cold air when you don't need it, or the system that just completely stopped working.
To help avoid emergency repairs and replacements, we recommend scheduling an HVAC tune-up each…
Read more