Preparing Your Home for Spring
Written by Hanna Plumbing & Heating / April 1, 2019
As the harsh winter weather finally breaks and makes way for spring, we recommend taking a few steps to prepare your plumbing and your HVAC systems to deal with winter's aftermath.
Inspect Your Pipes
Exposed pipes can freeze and burst, causing flooding and damage to your home. Pipes located in external walls and in unheated portions of your home are especially at risk. Carefully inspect each pipe for cracks. Keep an eye out for mold and moss, since they…
Read more
Fall Home Maintenance Tips
Written by Hanna Plumbing & Heating / October 16, 2018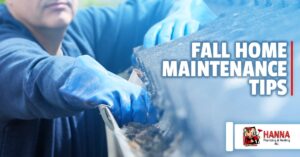 Autumn is the ideal time to give your home some extra care. The mild weather allows you to spend a little time outdoors and give your home some TLC to make sure everything is in line before the temperature begins to drop.
To combat any issues before they begin, there are a few things we recommend you do before winter arrives.
Shut off Outdoor Faucets
You likely have at least one outdoor faucet, but it's often not something we think…
Read more